what we do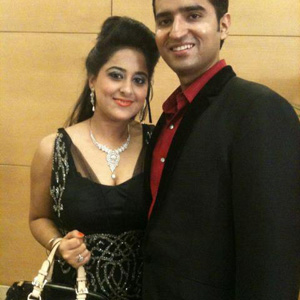 Ambrosia, by Isha and Pranav Sahani is a popular jewellery brand based in the country's capital city, New Delhi and also extends their business to various parts of the world like U.S.A and the U.K. The store highlights its traditional and contemporary bridal jewellery that has been curated by the owner herself, who absolutely loves working with diamonds and is a conceptualiser and designer par excellence. From a very young age, Isha developed her sense of design through her innate skill of being able to tell apart the quality, cut and character of stones, and that ability acted as a catalyst to her career in jewellery design. Having mastered the course in diamond grading at IGI and done jewellery design from JPDC, in New Delhi, she decided to follow her instincts and take her mother's dream of her becoming a jewellery designer to its fruition. With a few years of counselling in Delhi University, acquiring a master's degree and with unconditional support from her family, the wonder woman pursued her love for jewellery and went on to work with celebrities like Neha Bhasin and Kriti Kulhari.
Isha's journey of Ambrosia began from travelling to beautiful towns all over the country like Jaipur, Mumbai, Hong Kong, Surat to acquire valuable knowledge in jewellery making. She discovered these beautiful treasure troves, only to discover that they held intricate details that would later help her in forming Ambrosia into the brand that it is. Her various international expeditions with her husband Pranav, enabled them to explore the jewellery trade and become well versed with collections all over the world. The duo collectively encapsulated the functioning of distinctive, subtle jewellery making picking up detailed techniques and skills and formed an affordable jewellery line for their new formed clients at Ambrosia. The important feature that can be seen in almost every piece puts forth the philosophy of work ethic, and makes 'craftsmanship its centre. The quality of the jewellery at Ambrosia, is the finest and most rare, and an expression of unusual technical ability. Every aesthetically put together piece of jewellery has a facet of sophistication and elegance that envelops its wearer. As a conceptualiser Isha has enthusiastically, exhibited her jewellery line and created a number of astounding spreads all over the city. Ambrosia is a conceptualization of what its name depicts 'holy. Her jewellery line is a clear representation of its name whether its Renaissance that means re-birth or Enigma that means scintillating. The collections encapsulate the very nature and soul of every piece of jewellery and subtly interpret their elegant nature. Isha closely works with her manufacturing team at Ambrosia and personally looks to ensure each piece of jewellery is crafted to perfection. With the pricing being an attraction to the buyers at Ambrosia, Isha has made sure to carefully price the jewellery starting at merely 3,100rs making it super affordable. To showcase her area of expertise while elevating the boldness and creativity of jewellery making, Isha and Pranav have caused many sparks to fly that have opened the doors to a lot of recognition for Ambrosia and helped the brand make a name for itself in the world of 'haute bijoux.
The most exquisite art form is when an unfinished crystal transitions into a beautiful polished masterpiece. Isha and Pranav continue their tradition of creativity and quality without compromise to ensure that the jewellery at Ambrosia is the perfect embodiment of that philosophy.